Josiah Tattnall of Bonaventure

BONAVENTURE, Savannah, near Causton's Bluff
330 Bonaventure Road, Savannah, Georgia. 912-651-6843
Bonaventure Cemetery is located on the site of a plantation originally owned by John Mullryne, whose daughter Mary married Josiah Tattnall, Sr. The wife of Tattnall's son, Harriet Fenwick Tattnall, was buried on the plantation in 1802. In 1868 Bonaventure was converted to a cemetery, first called Evergreen Cemetery, but changed in 1907 to Bonaventure Cemetery. It remains one of the most hauntingly beautiful cemeteries in America with its ancient sprawling live-oak trees and greenish-gray moss and the grounds planted in memories carved in artistically expressive stones and statues. Some think of it as ghostly, and Savannah includes it in its Ghost Tours.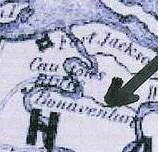 Josiah Tattnall was born at Bonaventure, a plantation near Savannah in 1762. His father and grandfather were Tories who fled to England during the American Revolution, their estates being confiscated. His father was Josiah Tattnall, Sr. of Beaufort, South Carolina, who settled on the winding St. Augustine Creek on land adjacent to his father-in-law, Colonel John Mullryne. Tattnall named his plantation Bonaventure, meaning Good Fortune. This plantation later became historic Bonaventure Cemetery. Josiah, Sr. He was married to Mary Mullryne, probably in South Carolina before coming to Georgia, and many of the old oak trees in the cemetery were planted in the shape of the letters M and T. By 1771, Mullryne and Tattnall owned over 9,000 acres, stretching from Ebenezer to Sunbury. Unfortunately, during the American Revolution the gentlemen pledged their loyalties to King George III, and helped the Royal Governor, James Wright, escape captivity. Wright escaped Savannah, staying at Bonaventure until he could board the ship Scarborough back to England. Mullryne escaped to the Bahamas where he died in 1786, while Tattnall went to England. The Revolutionary Council in Savannah declared them traitors and their lands were confiscated and sold at auction in 1782. The 750 acre-tract which comprised Bonaventure was sold to John Habersham. Josiah Jr. returned to Savannah after the Revolutionary War (1785) and bought the Bonaventure plantation from John Habersham. In 1786, Josiah married Harriet Fenwick
Become a member of the Pioneer Families Community, and enjoy the benefits of a network of genealogy experts: including access to all eight websites, books written by renowned Georgia genealogist Jeannette Holland Austin, and personal help with your research for any family in GA, NC, SC, or VA. A full year of membership with all these benefits for less than $13 a month, compared with up to $45 a month at ancestry.com
GeorgiaPioneers.com
KentuckyPioneers.com
NorthCarolinaPioneers.com
SouthCarolinaPioneers.net
VirginiaPioneers.net
Genealogy-Books.com
GaGraduates.com (Graduates database from ca 1830 to 1925)
SoutheasternGenealogy.com (Digitized Wills in counties of: Carter 1794-1830; Jefferson 1802-1810;Johnson 1839-1900;Unicoi 1878-1887; Washington 1779-1800)
SAVE MONEY! Click on Annual Membership button - $150.00 for one year.
Subscribe