Colonel Mark Carr who fought with General Oglethorpe in the war against the Spanish on the American continent, was granted several 500-acre tracts in Liberty County on the old site of Sunbury, Georgia and was probably buried in this cemetery. Only several markers are visible.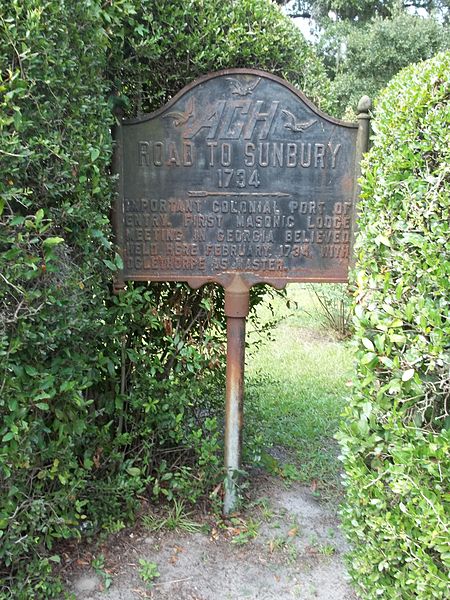 Carr, Mark, Colonel was probably the single-most enterprising planters in Georgia. His first plantation was located on St. Simons Island and one of the few in that locale because of the constant danger of raids by the Spanish Indians. It as described in the Court of the Queen at Westminster on February 11, 1744 by Lt. Colonel Alexander Heron (in giving his report to the Trustees of the agricultural progress being made in the Colony): "...that all sorts of garden stuff grow extremely well, and particularly asparagus, all the year round without dunging the lands...That he himself (Col. Heron) occupied one field on St. Simons four years. That on three or four acres, he had 53 bushels of indian corn cleared, besides a third more at least spoil or lost at the time of the invasion (Spanish). That vines thrive extremely well and that he himself grated European vines on the wild ones on the island. And that in one year, there have been shoots of twenty seven feet from the grafting as big as his finger. That cotton grows on the land by one great necessity...that he has while mulberry trees which grow very well, but they are not the natural product of the country. That he thinks silk, wine oyl, and cotton may be raised very well there...that the wood of St. Simon's is chiefly Live Oak...."
Colonel Carr also owned The Hermitage plantation, Carrsfield and Blyth. The entire biography of the Carr family is published to Georgia Pioneers . After you login, click on "Biographies".


Need to know if your ancestors left a will or estate record? An easy, quick (and free) way to find out is to click on the links below.

County Records of 8 Genealogy Websites
Alabama
Georgia
Kentucky
North Carolina
Virginia
South Carolina
Tennessee
---

BUNDLE RATE for 8. Access to all eight websites plus additional data in other States: Bibles, genealogies, civil war records, colonial records, marriages, wills, estates, special collections, books written by renowned Georgia genealogist Jeannette Holland Austin.
Membership to 8 Genealogy Websites - Reoccurring subscription with guaranteed low rate
REOCCURRING SUBSCRIPTION WITH PAYPAL = $150 per year. Guaranteed low rate so long as your subscription continues to renew itself. You may unsubscribe at any time, however, to prevent the reoccurring charge, you must "cancel" before the renewal date. To do this, login to your PayPal account and select the cancel option.
About your password. Please allow up to 2 hours for your password. If not received in a timely manner, click to send reminder
FIND GEORGIA ANCESTORS NOW!
Georgia Databases