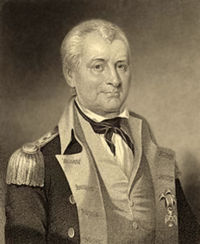 Let us compare this situation to today's political maneuverings. Here we have Button Gwinnett, an aggressive, ambitious politician who tried to push the appointed Military Leader of Georgia, General McIntosh, aside to capture that glory for himself. His tricky maneuvers to have the general's brother tried for treason, resulted in his having to challenge the general to a duel. As a result of poor medical care afterwards, he died. But his political friends spread the bad-mouthing accusations which followed McIntosh all of his career.
The accusations of the brother were investigated by the continenmtal congress and released for insufficient evidence. Yet the spin continued. Today, we have a president of these United States who fails to do his job and blames the Republican party for it, using class-envy, the hateful tactics which will endure perhaps into the next generation.
After a period of service under General Washington, General McIntosh was assigned to the Virginia and Pennsylvania frontier where he had difficulties with his subordinate officers. Colonel Daniel Brodhead finally wrote in protest to General Washington that the Georgian was almost universally hated by "everybody in the department, civil and military." McIntosh was transferred back to Georgia in 1779 to serve under General Lincoln, who, at that time was in command of the Southern Department. The Executive Council then wrote a letter to Congress in which it said that "the people at large in the state had such a repugnance to him that the militia would not turn out under his command." Congress paid no attention and General McIntosh served with the combined American army and French fleet in the siege of Savannah in 1779, a siege which failed to regain the city from the British. Later, the General was stationed at Charleston and captured by the English when that city fell to them. He was exchanged, returned to the army and stationed in Virginia until the end of the war. Eventually, he returned to Savannah to reside with his family and was elected to the Continental Congress and designated to be a member of the commission which settled the dispute over boundaries between Georgia and South Carolina. General McIntosh died February 20, 1806.