Tallow Chandlers' Hall, Dowgate Hill, London, occupied this site from 1462
Calwell, John, tallow chandler of Temple-Barin in London which he attempted to have as a trade in Frederica, but soon quit it. Wife: Constance. Had two children by 1738, and another one by 1743. In Frederica, Calwell was tythingman and Third Bailiff. Tallow is animal fat. Tallow Chandlers engaged in tallow candle making and also in the trade of oils. Traditionally, tallow chandlers operated separately from wa chandlers. Beeswax candles were used in churches and noble houses, while tallow candles were used in other homes.
The Calwell biography is found on
Georgia Pioneers
under "Biographies".
Brickwall Subscription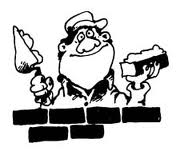 Subscribe to www.georgiapioneers.com for 1 year - $122.00. This subscription includes free brick wall help with one of your Georgia Families. After you subscribe, please submit the issue
here