It was the cotton which brought the railroads to Georgia. The upper river country prospered from the economy of cash crops and a certain satisfaction brought content. However, the planters did not have much left over after repaying money borrowed for crops, labor and materials. Thus, the routine of each plantation's business involved many persons and costs and of necessity, inventories of lumber, nails, supplies, etc. accumulated on the place. When someone died, his estate was at least fifty pages long, detailed with inventories of the entire operation. Soon steamboats carried the large bales down river, returning with a hull of city goods from Charleston. By 1833, there was a railroad which ran from Charleston to Hamburg (South Carolina) and this caused Charleston to get the upper hand. So, the Savannah fathers made plans for a railroad going from Savannah to Macon, to the center of Georgia.
Brickwall Subscription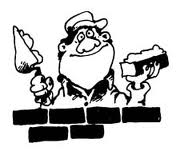 Subscribe to www.georgiapioneers.com for 1 year - $122.00. This subscription includes free brick wall help with one of your Georgia Families. After you subscribe, please submit the issue
here

Special Upgrade Bargain this month for Bloggers. Subscribe to 6 genealogy websites and get 18 months for $150 (rather than 12 months).
Click here to take advantage