Butler Plantation near Altamaha River and Couper Plantation. After Aaron Burr killed Alexander Hamilton in 1804, he hide from the public life by residing on St.Simon's Island for several weeks. It was here that he wrote his daughter, Theodosia, about the lavish establishment of the Butler Plantation located on the island (one of many). Major Butler lived in grand style, the best their was for that era. He married the actress Fanny Kemble who wrote the book against plantation life. Yet Burr bragged about his experience on the plantation, saying that he had his own personal servant, a house-keeper, cook and chambermaid, as well as a seamstress and two footmen, two fishermen and four boatmen were always at his command. The Butler plantation adjoined that of John Couper, who sent him over an assortment of French wines, claret and saunternes, and Madame Couper added sweetmeats and pickles sufficient to last twelve months.
Brickwall Subscription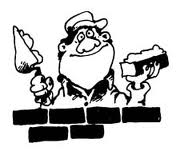 Subscribe to www.georgiapioneers.com for 1 year - $122.00. This subscription includes free brick wall help with one of your Georgia Families. After you subscribe, please submit the issue
here

Special Upgrade Bargain this month for Bloggers. Subscribe to 6 genealogy websites and get 18 months for $150 (rather than 12 months).
Click here to take advantage