The woman's role in plantation life was very busy and she was effectually a loving mother to all her children and nurse to the servants. Mrs. Spalding of Sapelo Island exemplified such an existence. At nine in the morning after breakfast, she interviewed the plantation nurse, who came to her with a list of the stick. She then visited the serious cases in the slave quarters and if necessary called a doctor. We must remember that physicians in those days had limited abilities, so the nursing care was thrust upon the mistress of the home. Then she had a personal interview with the cook, the butcher and the fisherman. At twelve she received the three plantation mistresses with their baskets of completed garments, which she checked and assigned to the various slaves. Spinning thread from cotton bowls, making cloth, and sewing was an ongoing enterprise and necessary to keep the household and servants properly clothed. If there was no female servant to be trained for the task, the mistress did it herself. She had no time for herself until two o'clock when she rested briefly. Dinner was served at four-thirty in the afternoon when a bountiful spread was laid out of sweetmeats, biscuits and vegetables from the garden. This was the big deal of the day; hence, "supper" was later in the evening after the chores were performed, and was spread from dinner left-overs. The entire meal service centered around the daylight hours available for the necessity of a plantation economy. Neighbors frequently attended the large afternoon meal without notice, as well as invited guests encountered during the morning's activities. One of Mrs. Spalding's daughters said that she never remembered sitting down to dinner with less than twenty-four persons present. Mrs. Spalding was busy running the household and having babies. She had sixteen in all, but only six of them lived to maturity. The large plantations like "Mulberry Grove" in Savannah doubtless shared the same routines.
Brickwall Subscription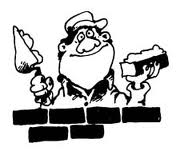 Subscribe to www.georgiapioneers.com for 1 year - $122.00. This subscription includes free brick wall help with one of your Georgia Families. After you subscribe, please submit the issue
here

Special Upgrade Bargain this month for Bloggers. Subscribe to 6 genealogy websites and get 18 months for $150 (rather than 12 months).
Click here to take advantage